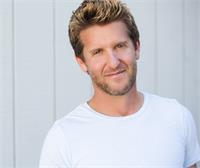 Marc Holzman Returns to Waterford Sun 26th May 2019 for 2  very special workshops – this will sell out – book your place early 🙂
What does HOME mean for you?
 Often there is a yearning to return to a place that feels familiar and anchored. There may even be a tinge of nostalgia which carries with it a bittersweet sensation in the Heart.  Ayurvedically, when the energy of Vata  (Wind) causes us to feel ungrounded and homeless in the body/mind/heart, we need practices that ground the volatile elements
Marc will guide you through a Vata-pacifying practice of warmth, steadiness, and grounding; a practice to welcome you home into each and every cell, and fully into the space that surrounds you.
 Waterford Sunday Morning  10am – 12.30pm – Nourishing, dynamic backbends emphasizing foundation and grounding to keep you stable and safe.
 Waterford Sunday Evening 2.30pm – 5.00pm –  Slow hip openers, forward bends, meditation, mantra, pranayama and Yoga Nidra is offered to stabilize Vata and guide you Home.
€75 Early Bird for both workshops – €45 each – €90 for both after 1st May
Places Limited Booking Early to secure your place is highly recommended to avoid disappointment
To Book simply text Michael on 0868335425
BIO
How do we live an optimal human life?
As a pioneer for deep change, Marc has dedicated most of his own life to unraveling this great mystery. An avid Truth-seeker and playful risk-taker, Marc is passionate about refining the art of living and empowering his students to do the same.
Marc is a certified Ayurveda practitioner with over 17 years' experience teaching Hatha Yoga and Meditation. He currently lives in both L.A. and Paris for greater access to the workshops, teacher trainings, and retreats he teaches across the globe. He can also be found across the ethers via his many classes streamed on Yogaglo.com. His signature Ayurveda health coaching program, Evolutionary Habits, has been accelerating the wellness path of students since 2012
€75 Early Bird for both workshops – €45 each – €90 for both after 17th May
Places Limited Booking Early to secure your place is highly recommended to avoid disappointment
---
We are so delighted to have the wonderful Bridget Woods Kramer over from the UK to teach two Anusara open workshops on Saturday the 20th & 21st July 🙂  we are so looking forward to welcoming Bridget back to Waterford 🙂
Anusara Yoga with Bridget Woods Kramer
PRECISION and GRACE
Join Bridget Woods Kramer for a series of yoga master classes July 21st & 22nd
Bridget Woods Kramer began her yoga studies in India in 1975 and embarked on an intense program of study to become a senior yoga teacher. She has concentrated on teaching since 1998. Bridget enjoys an international reputation of excellence and travels all over the world offering yoga in all its forms. She teaches with enthusiasm, sensitivity and insight, conveying yoga potential to support us in living and serving with love. She is known for her sense of humour, dynamic style of teaching and close attention to alignment detail.
Sat – am 10am – 12.45pm
Cultivate Power , Precision and Mindfulness in standing and balancing poses .
Standing postures are the most thorough group of postures , they build strength ,flexibility & endurance while helping you cultivate greater awareness & steadiness of mind .
Sat – pm 2.15pm – 5.00pm
Create Space ,Openness & Clarity without strain in this backbend focused practice . Backbends can be challenging postures but when skill fully executed these poses are exhilarating and inspiring . A wide variety of poses will be taught from prone , supine , kneeling and standing .Followed by the key counter poses needed to balance
Sunday -am 10am – 12.45pm
The Art of Assisting – a workshop for teachers – teacher trainees – dedicated students
Learn how to skilfully assists your students in a variety of postures , from simple adjustments that empower students to find the optimal alignment to adjustments that take students deeper into a pose .
Learn key adjustments for a variety of standing , backbends , twists ,forward bends band balances .
Sunday – pm 2.15 – 5.00pm
Turn inwards get Quiet and Release Tension a Restorative and Pranayama practice .
A Health enhancing sequence for bringing balance to the endocrine, nervous ,digestive and reproductive systems; to increase vitality and circulation throughout the body and to relieve and calm the body and mind .
Please note you can attend 1 – 2 – 3 – or all 4 sessions
Each session is €45 on the day Early bird prepaid discount €40 each – €75 for 2 – €110 for 3 – €145 for all 4
Simply let us know if you would like us to reserve your place
Text me on 0868335425 or mail me on alphazonemichaelconnolly@gmail.com