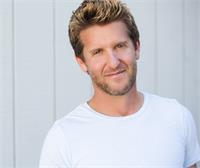 Marc Holzman Returns to Waterford Sat 16th & Sun 17th  May 2020 for 3 very special workshops – this will sell out – book your place early 🙂
Five Kosha Cleansing
Your Comprehensive Guide to Ayurveda Self-Care
The ancient yoga texts, The Upanishads, teaches us that human beings are born with five distinct bodies or sheaths (koshas).
Ayurveda reminds us that true well-being requires practices that address each of these five bodies:
Physical
Energy
Mind
Wisdom
Bliss
This weekend we will employ asana, pranayama, meditation, journaling and Yoga Nidra – one practice for each 'body' – to set you on the path towards optimal health.  It will be a weekend of warmth, steadiness, and grounding with practices to welcome you home into each and every cell, and fully into the space that surrounds you.
Saturday Morning   10am  – 12.30pm
Five Kosha Overview + Arm Balances
Learn simple Ayurveda habits to cleanse all five of your 'bodies' and bathe in a nourishing, dynamic flow with accessible arm balances.  We will emphasize foundation and grounding to keep you stable and safe.
Saturday Afternoon  2.30pm – 5.00pm
Understanding the Power of Intention (Sankalpa) + Hip Openers
Using a strong Intention, we'll dive into slow hip openers, forward bends and conclude with a delicious Yoga Nidra to nourish and restore all the koshas.
 Sunday Morning 10.00am – 12.30pm
Agni (Digestive Fire), Koshas + Twists and Core
Agni (FIRE) is praised in Ayurveda as the power of healthy digestion.  A practice of deep twists and core work are essential to purify the organs and koshas and to maintain a bright and efficient metabolism.
Early Bird Prices €40 each,  €75 for 2 workshops,  €105 for 3 if paid in full by 1st May – €45 each workshop after 1st May
Places Limited Booking Early to secure your place is highly recommended to avoid disappointment
To Book simply text Michael on 0868335425
BIO
How do we live an optimal human life?
As a pioneer for deep change, Marc has dedicated most of his own life to unraveling this great mystery. An avid Truth-seeker and playful risk-taker, Marc is passionate about refining the art of living and empowering his students to do the same.
Marc is a certified Ayurveda practitioner with over 17 years' experience teaching Hatha Yoga and Meditation. He currently lives in both L.A. and Paris for greater access to the workshops, teacher trainings, and retreats he teaches across the globe. He can also be found across the ethers via his many classes streamed on Yogaglo.com. His signature Ayurveda health coaching program, Evolutionary Habits, has been accelerating the wellness path of students since 2012
Places Limited Booking Early to secure your place is highly recommended to avoid disappointment
---
Vertical Reality 101
We are delighted to be hosting Agni in delivering the incredible Vertical 101 training in Waterford on the 29th – 31st May 2020
This is an amazing training that I cannot recommend high enough
more information coming soon, very soon – this is a game changer 🙂